Hello and welcome! Thanks for visiting the CUNY SPH Office of Accessibility Services (OAS) webpage. We're so glad you're here!
My name is Sara Ingram, and I'm the Director of the OAS.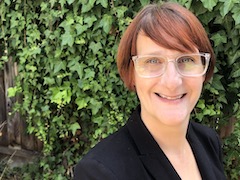 To receive accommodation(s):
1. First create an account.
2. Then before every semester, request that your accommodation(s) be implemented.
---
Create an Account
There are two ways to start the process of creating an account. You may:
Obtain a letter from your provider that:
Is on letterhead and includes the provider's license number;
Includes the disability and/or disabling medical condition; and
This should include the functional limitations because of the disability or disabling medical condition.
Details the specific accommodation request related to the disability and/or disabling medical condition.
Documentation must include explanations as to why the accommodation(s) will be useful. Individual Education Programs (IEPs); a psychological/educational report; or medical documentation can also be provided.

Send an email with your EMP ID and the letter from your provider to accessibility@sph.cuny.edu.
– OR –
Before the start of every semester
After you have created an account and before the start of every semester that you want to have your granted accommodation(s) implemented, email the Office of Accessibility Services the:
Appeals
Students may submit appeals regarding accommodation determinations, academic adjustments or implementation by emailing Sahana Gupta CUNY SPH Chief Diversity Officer, Title IX Coordinator, and ADA-504 Coordinator sahana.gupta@sph.cuny.edu. For more on the accommodation process, see the CUNY SPH Policy Implementation Workflow.
If you have issues with a course unrelated to accommodations that you feel cannot be resolved directly with your instructor, contact the Chair of the department of the course.