Harlem COVID-19 Survey, January 2022, with comparisons from June '20 and Feb '21
The following report highlights findings from a survey fielded by the CUNY Graduate School of Public Health and Health Policy from January 29-31, 2022. The survey was fielded in Harlem to a sample of n=500 adults. Two additional cross-sectional surveys from June 2020 and February 2021 offer comparison points throughout.
In an accompanying presentation, Dean Ayman El-Mohandes and Distinguished Lecturer Dr. Scott Ratzan provide data and insights about the economic and social impacts of COVID-19 on New York City and Harlem. A closing message is provided by C. Virginia Fields, Founder/CEO of National Black Leadership Commission on Health.
Vaccination Status and Sentiments
Overall 72% of Harlemites report being fully vaccinated against COVID-19 (either two doses of the Pfizer or Moderna vaccines; one dose of Johnson and Johnson; or had received a booster shot), with an additional 12% being partially vaccinated (only one dose of a Pfizer or Moderna vaccine). This indicates that most folks who planned to be vaccinated against COVID-19 at the start of the pandemic have received a jab– in June of 2020, 65% of Harlemites reported that they planned to be vaccinated; in February 2021, 71% indicated that they strongly agree or agree that they will take the COVID-19 vaccine when it is available to them.
Harlemites are less likely to be fully vaccinated than the citywide population (72% vs 81%, respectively) with higher rates of partially vaccinated adults (12% vs 9%. respectively) and unvaccinated adults (16% vs 10% respectively). Harlem also has a lower rate of boosted residents than the city (30% vs. 43% respectively). 51% of boosted Harlem residents reported the Omicron variant as the motivation to receive the additional shot.
Harlem residents report feeling less angry towards unvaccinated folks (48%) as compared to the city average (54%). Notably, Harlemites do not agree with using insurance premiums as a punitive measure for unvaccinated individuals (59% disagree). Though for other restrictions, they express similar support as compared to the rest of the city: restricting unvaccinated adults from indoor public activities (70%), airplane travel (65%), not being allowed to work in the service industry (64%) or schools (68%). When asked if they believe these restrictions will actually impact vaccine uptake, only 44% believe it will motivate unvaccinated individuals.
Nearly a third (29%) of Harlemites would be less likely to vaccinate in the future with the availability of a medication to treat COVID-19 symptoms.
Currently, 24% of Harlemites feel at risk for serious illness from COVID-19. This is a significant decrease from the risk perception expressed in a similar survey in June 2020– back then, 45.5% of residents felt their chances of getting sick were high or very high.
Willingness to vaccinate children and reported vaccine coverage was slightly higher in Harlem as compared to our citywide findings.
Parents were asked about their willingness to vaccinate children in eligible age groups. For Harlem parents of children ages 5-11, a third (32%) reported their child was already vaccinated. Over half (54%) were very or somewhat likely to vaccinate their 5-11 year old while the 15% were not very or not at all likely.
For parents of children ages 12-17, over a third (34%) reported their child was already vaccinated, while 54% were very or somewhat likely to vaccinate their child and 12% were not very or not at all likely.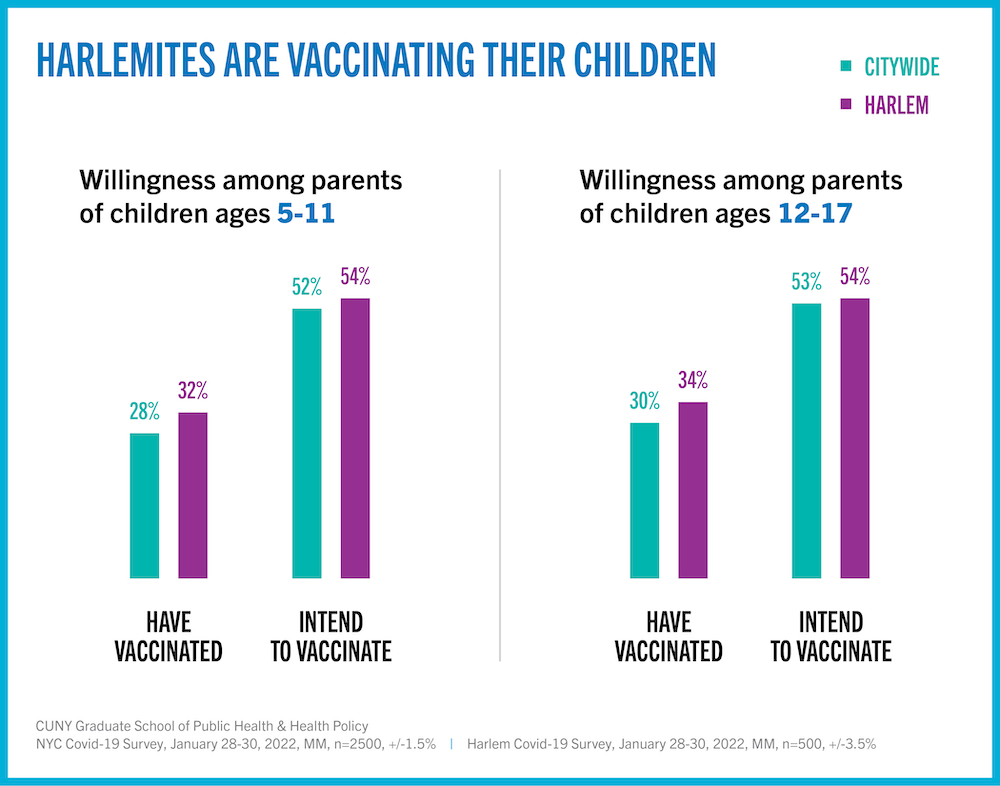 COVID-19 Testing and Masking
Our past Harlem surveys showed testing for COVID-19 increased significantly in the last two years, from 4% reporting taking a test between March-June 2020; to 62% from March 2020-February 2021.
Positivity rates among respondents decreased however: in June 2020, 69% of tests came back with positive results; in February 2021, 20% were positive. When asked at the end of January 2022, nearly a quarter (23%) of Harlemites reported testing positive since Dec 1, 2021, the beginning of the omicron wave in New York City. Most respondents used PCR tests (65%) possibly indicating the success of testing resources such as pop ups and community-driven testing events.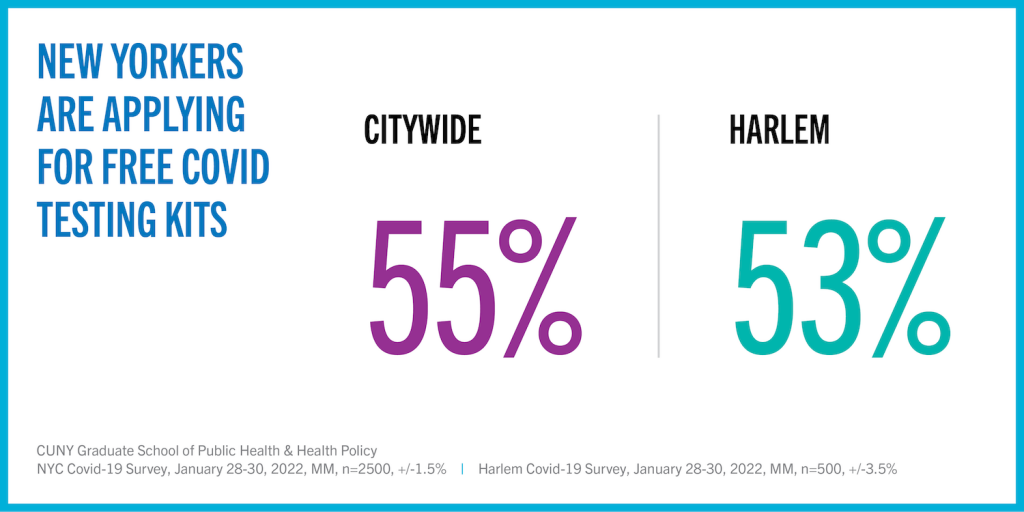 Nearly half of Harlem respondents (53%) reported they had applied for a free home COVID-19 testing kit distributed by the federal government. Just over a quarter (26%) wanted to keep some tests at home for future use; an additional 23% wanted to have testing kits at home in case they had symptoms or felt sick; 22% wanted to use the home tests to prepare for getting together with family or friends. When asked why home tests were preferable to other types of test, 32% cited the convenience of testing at home, and 29% reported the lines to receive other tests were too long. Harlemites were twice as likely as compared to the city average to cite the cost of testing as an incentive to choose home tests over other varieties (9% vs 5% respectively).
67% of Harlemites support the current NYC policy for a confirmed COVID-19 vaccination or weekly test and 65% agree with the federal policy to enforce vaccination among workers in healthcare facilities.
Harlem residents have high uptake of masking while in public. Close to three-quarters (74%) of Harlemites always wear masks in public places. 18% wear masks most of the time, 5% wear masks some of the time, and only 3% endorse never wearing a mask in public.
Economic Outlook and Financial Hardship
Harlemites may be more optimistic that the economy will recover as compared to the city average with 22% saying they believe the economy will recover by September of this year, while only 16% of citywide respondents say the same. At the same time, more Harlemites, almost one in five, believe the New York economy will never fully recover (18% vs. 15% overall citywide). 34% of Harlem respondents think more New Yorkers need to be vaccinated for the economy to fully recover.
When looking at past surveys, optimism has waned. In 2020 about 67% of respondents were optimistic about the future of Harlem. Now in 2022, only 44% of Harlemites feel that they personally will be better off financially a year from now.
Harlemites are experiencing food insecurity at higher rates than the New Yorker average (41% of Harlemites vs. 34% of all New Yorkers). Food insecurity has remained very high throughout the pandemic with 49% of Harlemites reporting this concern back in June 2020. Two of Harlem's major food markets have recently closed permanently, leaving neighborhood residents with fewer options to secure affordable groceries. Over half of respondents experiencing food insecurity were Black (55%); 21% were Latino/a; 12% White; and 3% Asian. Those experiencing food insecurity were more likely to have a high school degree or less (54%); be younger (ages 18-29) (55%) and make less than $25000 a year (53%).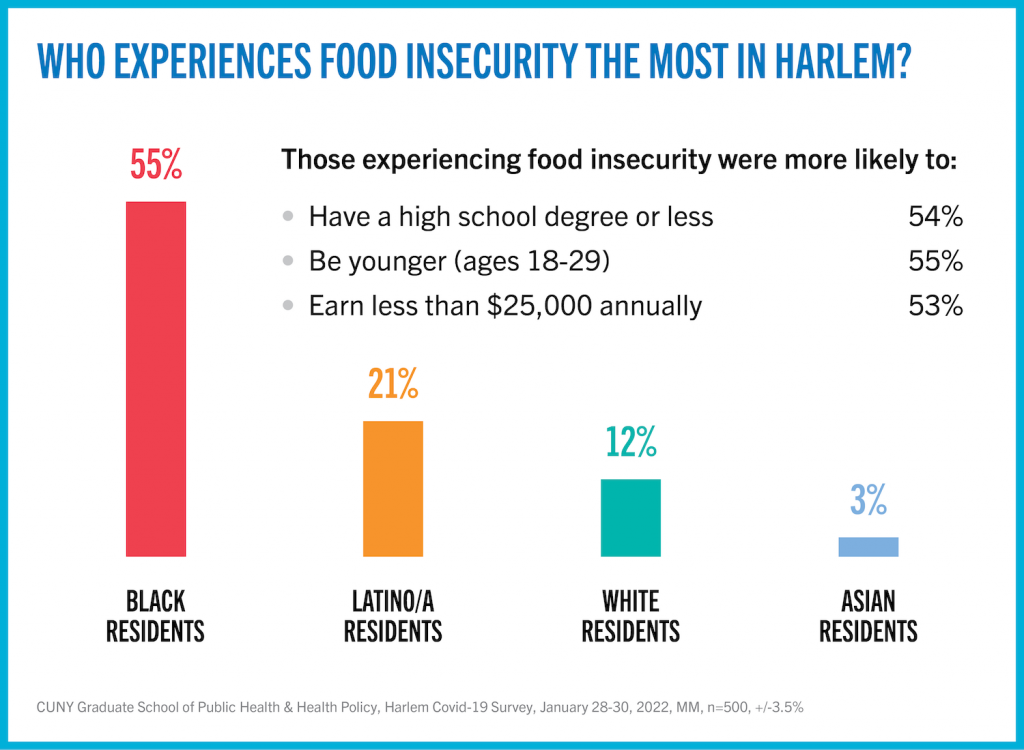 More Harlemites feel worse off financially now than they were in March 2020 as compared to the rest of the city (40% vs. 34%, respectively), some feel better off (24%) and 36% feel the same. This financial insecurity was first indicated in our June 2020 survey, when a third (33%) of Harlem respondents reported a loss of household income and 15% reported losing their health insurance.
Government Trust
Over half (57%) of Harlemites trust governmental responses to the pandemic reflect their best interests and safety (about 19% trust the federal government only, 11% trust the state government only, and 27% trust both). However, distrust remains high among Harlemites: almost a quarter of residents (24%) do not trust the federal government's nor New York State's pandemic responses.
Mental Health 
We asked Harlemites how often they felt down, depressed, or hopeless during the weeks of January 17-30. While relatively few Harlemites were experiencing serious depression compared to the city average (4% of Harlemites vs. 9% of New Yorkers), over a quarter (26%) of Harlemites experienced depressive symptoms 3-5 days in that time period.These data suggest a need for further exploration into the mental health needs of Harlemites and more support for community-based efforts to address stigma, access, and culturally competent mental health services.
New York State Senator Cordell Cleare of District 30 offered a response to this report with her perspectives as a Health Committee member:
"I commend Deborah A. Levine, Director of the Harlem Health Initiative and all of her colleagues at CUNY Graduate School of Public Health & Health Policy for this exceptional report.  It confirms what we intuitively knew for the past two years—COVID had a disproportionate and devastating impact on our communities. Much like any disaster, resources must be targeted in the areas of greatest impact and need. We must learn this lesson once and for all, however, that it is our responsibility to create equitable conditions in society that no pandemic may ever exploit."
Survey Methodology
The CUNY Graduate School of Public Health & Health Policy (CUNY SPH) survey was conducted by Consensus Strategies from January 28-30, 2022. The sample for the Harlem results was n=500, with a Credibility Interval (CI) similar to a poll's margin of error (MOE) of +/- 3.5 percentage points. The data sets were weighted by gender, age, ethnicity, education and borough based on the 2020 1-year American Community Survey model. It is important to remember that subsets based on gender, age, ethnicity and region carry with them higher margins of error, as the sample size is reduced. Data was collected using an Interactive Voice Response (IVR) system of landlines (n=117), SMS-to-online (n=152) and an online panel provided by Consensus Strategies (n=171).
Demographics, 500 Harlem Residents
Race/Ethnicity
African American or Black 49%
Asian 4%
Hispanic or Latino/a 23%
White 15%
Multiple 4%
Other 5%
Educational Attainment
High school degree or less 37%
Some college/technical school 22%
Bachelor's degree 22%
Graduate degree or more 19%
Age Range
18-29 27%
30-39 22%
40-49 15%
50-59 15%
60+ 22%
Gender
Male 44%
Female 54%
Other/transgender/non-binary 2%
Household Income Range
< $25,000 29%
$25,000-$49,999 26%
$50,000-$99,999 21%
$100,000-$149,000 8%
> $150,000 8%
Preferred not to answer 8%