On June 2, for the first time since May 2019, CUNY SPH hosted an in-person commencement ceremony at the historic Apollo Theater in Harlem, celebrating the dynamic class of 2022.
Dean Ayman El-Mohandes welcomed the graduates and their loved ones, recognizing the momentous nature of the event, given the prolonged challenges of the pandemic. He noted that, before picking up their caps and gowns, many students had never set foot on the CUNY SPH campus, having completed their degrees entirely online.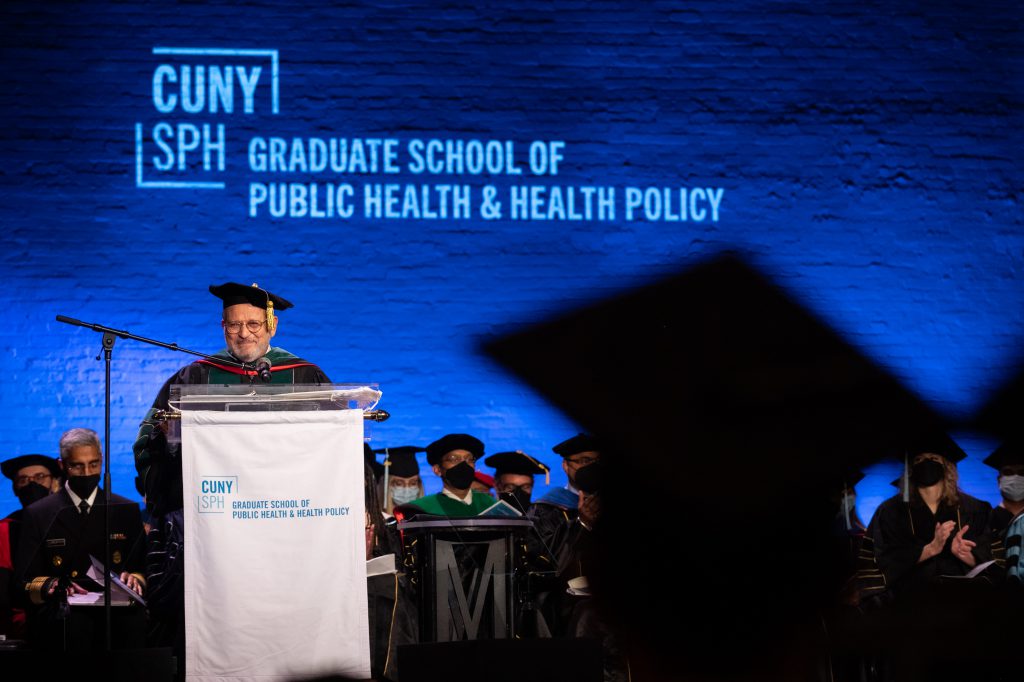 "We prevailed over every adversity together and here we are to celebrate our victory," he said.
The dean highlighted the other major public health challenges facing the nation and the world, including gun violence, threats to reproductive rights and climate change.
"You could not have chosen a more relevant profession at this very moment in the 21st century and what you are about to embark upon in your careers will be critical to the future of humanity," he said. "That sounds so very dramatic even to me as I say it, but it could not be more true."
CUNY Chancellor Félix V. Matos Rodríguez congratulated the graduates and delivered the opening remarks.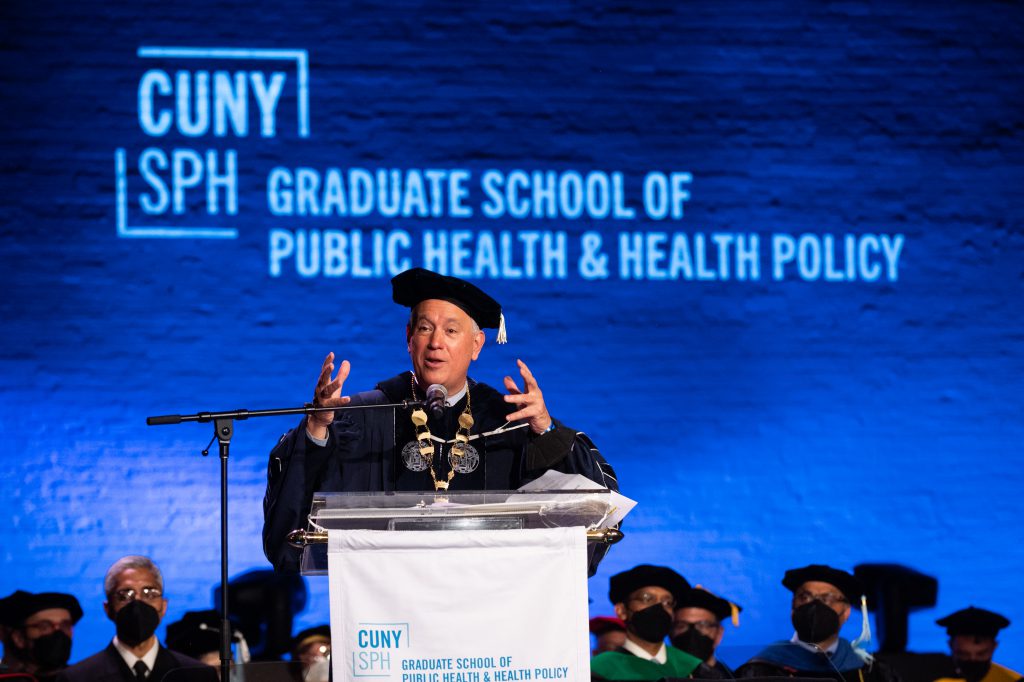 "On behalf of the entire community at the City University of New York, I want you to know that as you go on your journey—a very important journey at this time in history and particularly as we try to rebuild our city back from this COVID pandemic—just know that the Graduate School of Public Health and Health Policy, the City University of New York and this Chancellor will always have your back."
United States Surgeon General Vivek H. Murthy delivered the keynote address and was presented with an Honorary Doctor of Science in Public Health degree.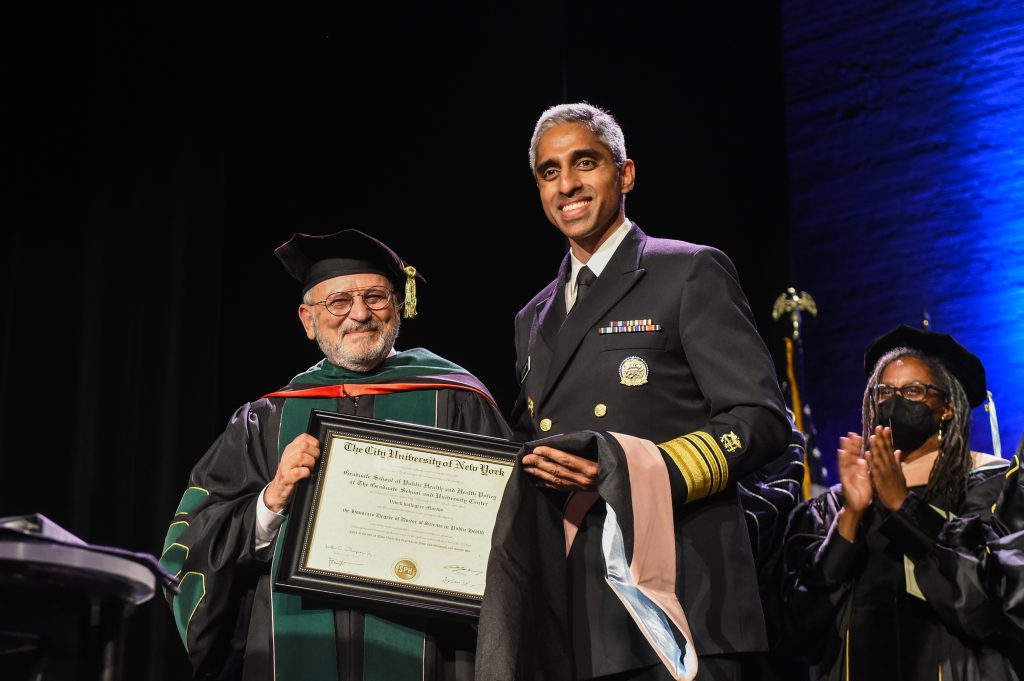 Like the dean, Vice Admiral Murthy emphasized the public health crisis of gun violence, alluding to the many recent mass shootings across the nation, including the murder of 19 elementary school children and two teachers in Uvalde, Texas.
"We owe it to each other and to our children to treat gun violence as the public health emergency that it is," he said, and pledged to do everything in his power during his tenure as the nation's doctor to address scourge of gun violence.
The Surgeon General reflected on the tenacity of the graduates, who succeeding in completing their degrees during one of the most challenging periods in recent history.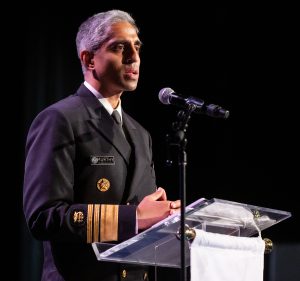 "Nothing that I went through in my experience in school compares to what you had to deal with, trying to earn this incredible degree during a pandemic," he said. "These are extraordinary circumstances that you your faculty and administrators had to navigate. [This] is not just an ordinary degree…this is a pandemic degree and that's a special kind of degree!"
To stay true to the core mission of public health to ourselves in the process, Dr. Murthy asked students to make three commitments that define the highest ideals of public health: to stand up for the value of every life, to see all issues impacting health as public health issues and to put people first at home, at work and in all parts of our lives.
Dean El-Mohandes presented the Champion of Public Health Award to Dr. Dave A. Chokshi, former Commissioner of the New York City Department of Health and Mental Hygiene (DOHMH), for his leadership during New York City's response to the COVID-19 pandemic, including its historic campaign to vaccinate over six million New Yorkers, saving tens of thousands of lives.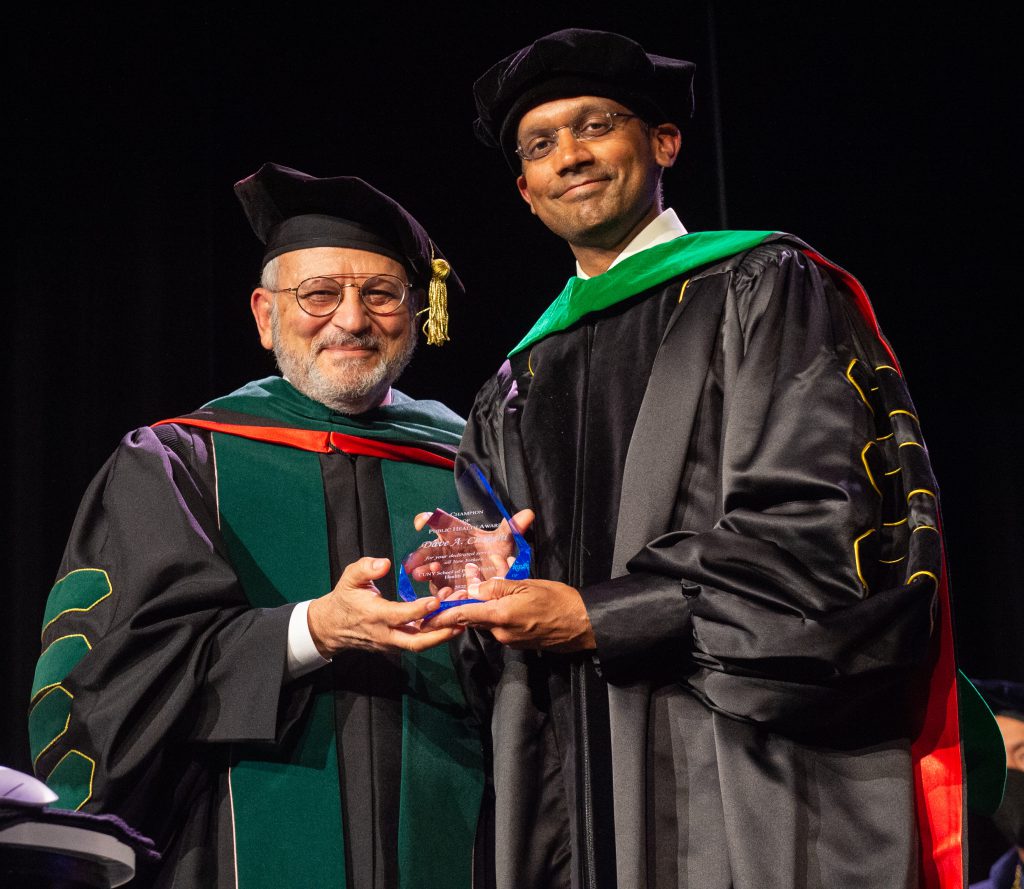 Dr. Chokshi accepted the award on behalf of his dedicated former colleagues at the DOHMH and offered a pearl of advice for the class of 2022.
"Spend more time nourishing your convictions than you spend burnishing your credentials," he said. "Because in times of crisis, as I learned during this pandemic, you will need your convictions far more than your credentials. I know I needed them just to go on in March of 2020 when our models were projecting that we would run out of hospital beds in the greatest city in the world. I needed them to navigate when we faced harrowing choices like whether or not to close schools in the midst of a massive COVID surge and I needed my convictions to stay true to life-saving public health policies like our vaccine mandates, despite facing political opposition and personal threats."
Dr. Ashish Joshi, Senior Associate Dean of Academic and Student Affairs, was presented with the Inaugural CUNY SPH Legacy Award for his integral and founding role in the growth and success of the school.
The dean presented the student and faculty awards, and Valedictorian Christopher C. McLaughlin addressed his fellow graduates.
"To each and every one of you, wherever you are in this journey, I hope the highroad of humility, grace and bravery ultimately lead you to the community and world that you want to live in," he said.
Associate Dean for Student Affairs and Alumni Relations Lynn Roberts presented a posthumous master's degree with honors to Sabine Nord-Joseph, an MPH student in the Community Health track who passed in December 2021. The degree was accepted by her sister, Ms. Flauberta Nord.
Dr. Chokshi led the graduates in reciting the Public Health Pledge, as in previous years, and Dean El-Mohandes congratulated the new alumni.
"I hope that you will always feel a part of the CUNY SPH community," he said. "I extend our warm appreciation to all for joining us on this happy occasion."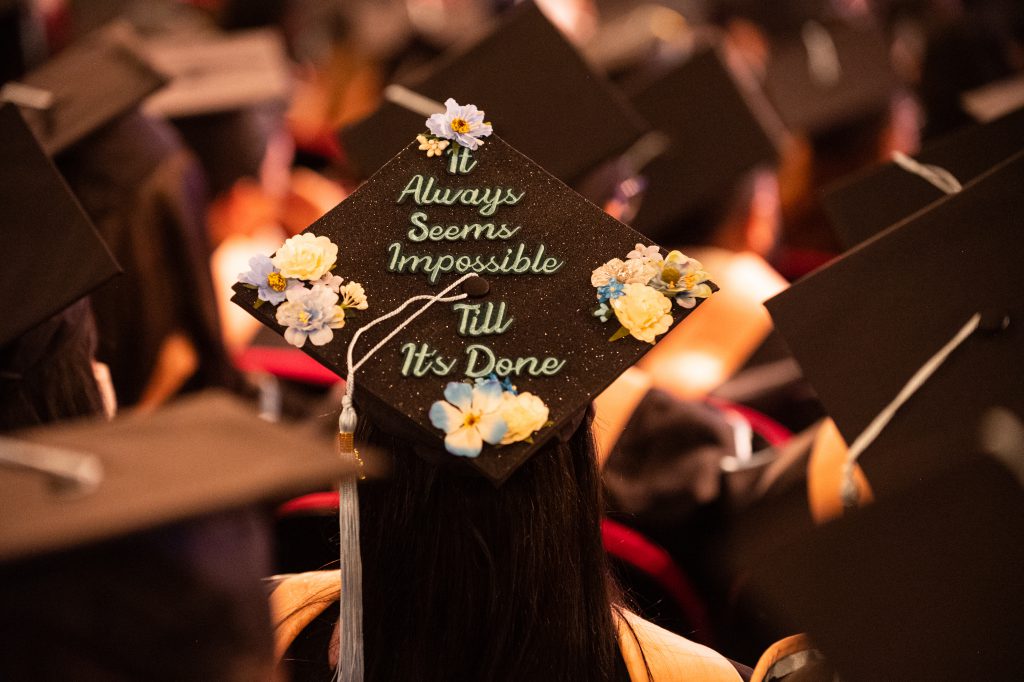 Watch the full ceremony here: