The CUNY Graduate School of Public Health and Health Policy's fifth commencement took place June 3, 2021, via Zoom for the second consecutive year due to the Covid-19 pandemic. Although circumstances were not ideal, the virtual format allowed for a variety of speakers from around the globe to address the graduates.
Dean Ayman El-Mohandes opened the ceremony, acknowledging the school's fifth anniversary as an independent college within CUNY. He congratulated the graduates on their perseverance and contributions to the field of public health during this decisive moment in history.
"You are at an important milestone in your life, where you will be able to contribute to the profession and to society in ways that will make their mark," Dean El-Mohandes said. "You're also graduating at a critical juncture in history, when our city, our nation, and the world has been suffering from the consequences of a pandemic—something that our generation has not experienced before. There is no doubt in my mind that the impact of the pandemic will have some effect on what you do and how you see your responsibilities in this very critical moment."
To commemorate CUNY SPH's five-year anniversary, Dean El-Mohandes presented former CUNY Interim Chancellor and University Provost Vita Rabinowitz with a Special Recognition Award for her role in the school's foundation.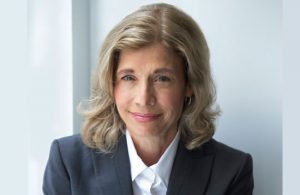 "What a year you have had on the front lines of a pandemic like no other!" Rabinowitz told the graduates. "You have collectively lived through one of the most harrowing applications of your professional experience and you have emerged with only more passion, more commitment, more confidence in your path. You learned so that you could serve, and through your service, you developed the confidence to lead. That's great for all of us because we need you. We need the talented, diverse, thriving graduates of CUNY SPH in leadership positions in public health."
New York Times bestselling author Heather McGhee, Distinguished Senior Fellow at Demos, delivered the keynote address and was presented with an honorary Doctor of Science degree.
"For those of you who are graduating today in the midst of a massive reawakening about how important the public is, how important and fragile our health is, and how woefully under-resourced and under-invested our public health systems have been, now is your time!" McGhee said.
Dean El-Mohandes presented the Public Health Champion award to Bilikiss Adebiyi-Abiola and Olawale Adebiyi, Founder and CEO, respectively, of Wecyclers, a leading for-profit recycling social enterprise operating in Lagos, Nigeria that has been able to pioneer incentive-based recycling and significantly develop the waste management supply chain.
Valedictorian and recipient of the Dean's Merit Award for Scholarship Hannah Stuart Lathan spoke on behalf of the class of 2021.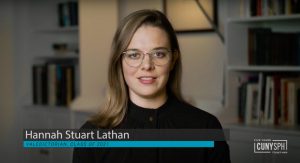 "Right now, a common and understandable narrative is that the world is ready to return to normal," Stuart Lathan said. "Still it is not lost on me how, in so many different ways, we don't want to return to that normal, to the world that existed in March 2020. We've spent years learning, researching, and working together to understand the paths to health equity. We are the ones to approach the inequities we so clearly see with veracity and grit, to build upon the groundwork laid by our teachers, both in school and in life. With deep respect, I stand with you today and in the days ahead as we bring forth a more equitable world through discipline, with intention, and great care, together."
CUNY SPH Alumni Core Group members welcomed the graduates and offered words of advice and congratulations, and CUNY SPH students spoke about how they have been working to increase Covid-19 vaccine uptake.
Dean Ayman El-Mohandes emphasized the challenges that lie ahead for the class of 2021 but expressed confidence in their demonstrated resilience and dedication.
"I congratulate you today, but I also extend to you with all humility, the great responsibility that you have at this very moment in the world that we live in today; meeting the pandemic, and applying what you learned but, more importantly, applying the principles that you have embraced while you were here and while we were learning together," he said. "I know that you are up to that challenge."