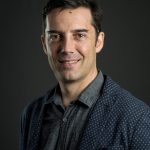 CUNY SPH Associate Professor Levi Waldron was awarded a U01 collaborative agreement by the National Cancer Institute of the National Institutes of Health to identify roles of the human microbiome in cancer development and treatment.
The human microbiome is implicated in the development and response to treatment of some cancers, including infectious agents estimated to be responsible for around 18 percent of the global cancer burden. It has only recently become possible to profile the entire microbial community of human specimens through metagenomic sequencing. However, initial attempts to understand newly collected data can fall short due to lack of context from other data, and to analysis tools lagging behind data generation. This project aims to enable comprehensive comparisons of microbiome studies to previously published results and known microbial physiology, to develop higher-resolution approaches to identifying viruses and bacterial strains from metagenomic data, and to make all methods and resources easily usable by a broad research community through open-source software and databases.
"This project involves systematically re-analyzing most of the published human metagenomics microbiome data and results, and enabling the research community to apply these data and results to new analyses," Waldron says. "I think of it as the 'publicly owned microbiome project' because the data are owned by the public, and the public should see these valuable data used beyond the limitations of the original studies for the greatest possible alleviation of disease burden."
Waldron says his own battle with cancer makes the award especially meaningful.
"As a recent survivor of a virally-caused cancer, I am especially honored to be entrusted with public funds to undertake this ambitious project," he says. "I look forward to helping enable a broad research community to identify, prevent, and better treat cancers of the microbiome."
This five-year, $2.1 million award also involves co-investigators Heidi Jones and Jennifer Dowd from CUNY SPH, Curtis Huttenhower from the Harvard TH Chan School of Public Health, Nicola Segata from the University of Trento in Italy, and Sean Davis from the NCI intramural research program. The project has already involved numerous CUNY SPH students who collected preliminary data, and will continue engaging CUNY SPH master's and doctoral students.