In the latest U.S. News and World Report rankings published Tuesday, CUNY SPH stands at number 15 out of 202 ranked schools and programs of public health nationwide and number 17 in health policy.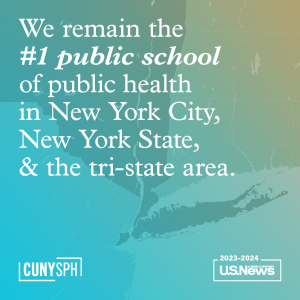 This ranking, the highest CUNY SPH has attained in its short history, maintains the school's position as the leading public school of public health in the tri-state (NY, NJ, CT) area, a position it has held for three years. CUNY SPH currently ranks seventh out of 129 public schools and programs of public health in the U.S.
The rankings are based on votes cast by the academic leaders of all public health schools and programs around the country. Respondents rate the academic quality of the programs on a scale of 1 (marginal) to 5 (outstanding).
"We thank our peers for the trust they have put in our school and are humbled by their confidence in us," says Dean Ayman El-Mohandes. "We would also like to thank CUNY Chancellor Félix Matos Rodríguez for his vision and the support he has provided CUNY SPH over the years. We are truly proud of this achievement, a direct reflection of the critical role that our faculty, students and alumni play in partnering with government, policymakers, communities, health care providers and others to help address the pressing public health issues of our time."
CUNY SPH has made great strides in the short time since its foundation in 2016. Our graduation rates remain amongst the highest at 83%, and 98% of graduates are employed in the field or seeking the next level of graduate education within 12 months. Over the past seven years we have doubled our student numbers, maintained a low student to faculty ratio of 10 to 1, and increased our research productivity more than fivefold. We have also maintained our commitment to diversity, access and quality, and to serving our community partners in New York City, New York State, across the nation and globally.
"The latest U.S. News rankings affirm the continuing rise of CUNY SPH as one of the nation's best and most innovative schools of public health and one of CUNY's most impactful professional schools," says Chancellor Matos Rodríguez. "In just a few years, it has become a leader in public health education, research and advocacy. Its students, faculty and graduates help make New York City and the world healthier and advance CUNY's mission of increasing educational and career opportunities for people of all backgrounds. I congratulate Dean El-Mohandes and the entire CUNY SPH community for their continuing excellence and commitment to the public good."
Our Mission: CUNY SPH is committed to promoting and sustaining healthier populations in New York City and around the world through excellence in education, research and service in public health and by advocating for sound policy and practice to advance social justice and improve health outcomes for all.