At the 2022 Career Services Association of CUNY Conference Last week, the CUNY SPH Career Skills Academy won second place for Innovative Career Services Program in the Diversity, Equity, and Inclusion category.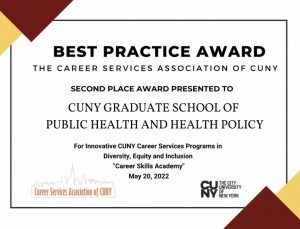 The CUNY SPH Career Skills Academy was launched in fall 2021 to promote and advance equity in career success for students. The program helps students develop and practice valuable professional skills, gain insight from top public health industry leaders, and build a community and professional network, all through our exciting series of seminars and activities.
"I'm very excited that we have been recognized for the work of the Academy," says Career Skills Academy Program Director Candace Lamb. "We look forward to continuing to help our students advance in their public health careers."
In addition, the Office of Career Services placed third for its event, "Public/Private Impact Career Days" in the Innovative Programs in Virtual Employment Engagement category. The Career Days were run jointly with the CUNY Graduate Center and Baruch College.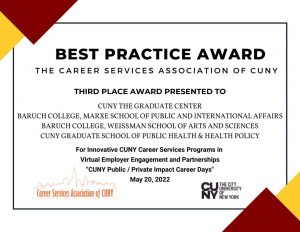 The SPH Office of Career Services provides SPH students and alumni with the tools and resources necessary to successfully secure jobs and manage their public health careers. The office develops talent pipelines to employment, provides individual advising, and produces a wide range of career and industry events.
"Partnerships like this allow us to better support our students' professional goals," says Office of Career Services Director Hannah Stuart Lathan. "It is a great opportunity to offer career enrichment across the CUNY graduate system for CUNY SPH students and alumni to access."
Learn more and apply to the Career Skills Academy here.
Learn more about the Office of Career Services here.