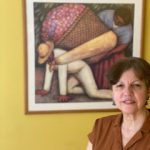 The Intersection of Industry, Occupation and Job Tasks with Hotel Room Cleaner Musculoskeletal Disorder Injuries: A Methods Approach to the Analysis of California Workers' Compensation Data.
Dissertation committee:
Jean Grassman, (Chair)
Sherry Baron
Emma Tsui
Niklas Krause
Robert Harrison
This dissertation defense will be held via Zoom. If you would like to attend, please email toya.cox@sph.cuny.edu for the Zoom info.