CUNY SPH surges in latest U.S. News & World Report Rankings
Lone public school or program in N.Y. City, State to crack Top 25
CUNY's Graduate School of Public Health & Health Policy (CUNY SPH) has been ranked 23rd in the nation by U.S. News & World Report for the academic quality of its programs. CUNY SPH was the only public school of public health in New York City, New York State, and the entire tristate area to be listed among the top 25 schools.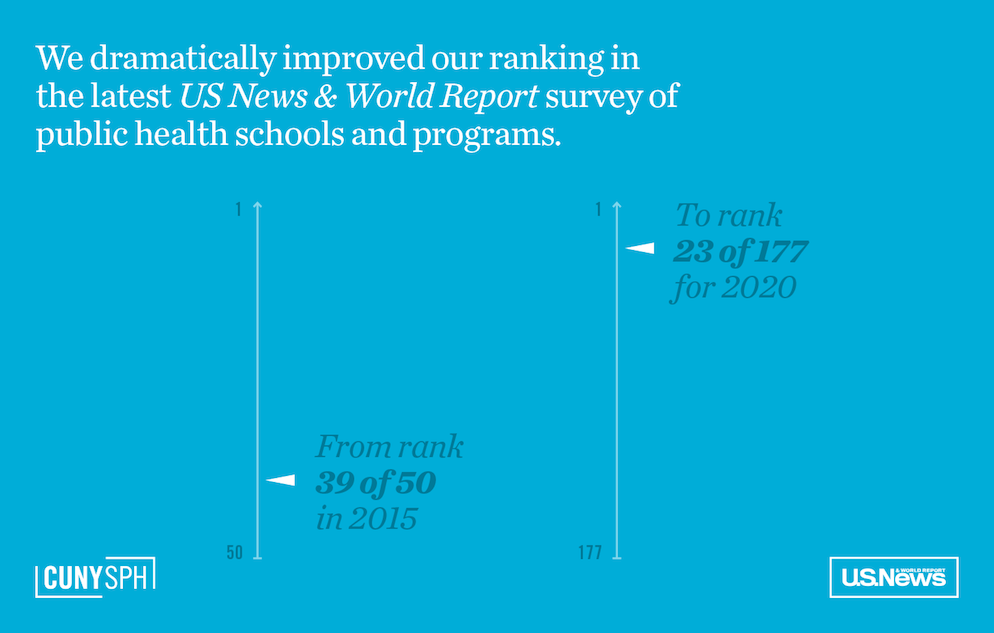 The 2020 list, published today, named 177 institutions, and the rankings were expanded to include academic programs as well as discrete schools of public health. This ranking marked a substantial improvement for CUNY SPH, which was previously listed 39th out of 50 schools in U.S. News & World Report's 2015 ranking.
"The CUNY Graduate School of Public Health & Health Policy has quickly and decisively burgeoned into one of this University's great success stories, and an enterprise that's wholly deserving of this recognition," said Interim Chancellor Vita C. Rabinowitz. "The quality and accessibility of its offerings, along with its mission to spur the improvement of health outcomes for residents of New York City and urban centers around the world, make CUNY SPH a vital, urgently important asset."
Among public schools and programs for public health, CUNY SPH now ranks 12th nationwide. Of the 177 schools and programs surveyed by the publication, 120, or just under 68 percent, are in public institutions of higher learning. Based on the date of its initial accreditation by the Council on Education for Public Health, in 2011, CUNY SPH is the newest school of public health to crack the U.S. News & World Report top 25.
"This dramatic surge in our ranking is a resounding vote of confidence in our school, and a tribute to the excellence of our faculty and staff, whose commitment to public health science is matched only by their dedication to the success of our students," said Dr. Ayman A.E. El-Mohandes, dean of CUNY SPH. "It is also a recognition of the caliber of the students we are graduating, as they make their mark in the field of public health."
The school's graduation rate stands at 80 percent for master's degrees, and its post-graduation employment rate is excellent. Of graduates who have been tracked since the school's consolidation in 2016, 97 percent are employed or continuing their education, and 80 percent of those employed are working in the field of public health. The diversity of the student population at CUNY SPH reflects its social justice and urban health focus: In fall 2018, 58 percent of the school's students listed themselves as members of a "minority" racial or ethnic group; 29 percent reported they were white, and 13 percent did not specify their race.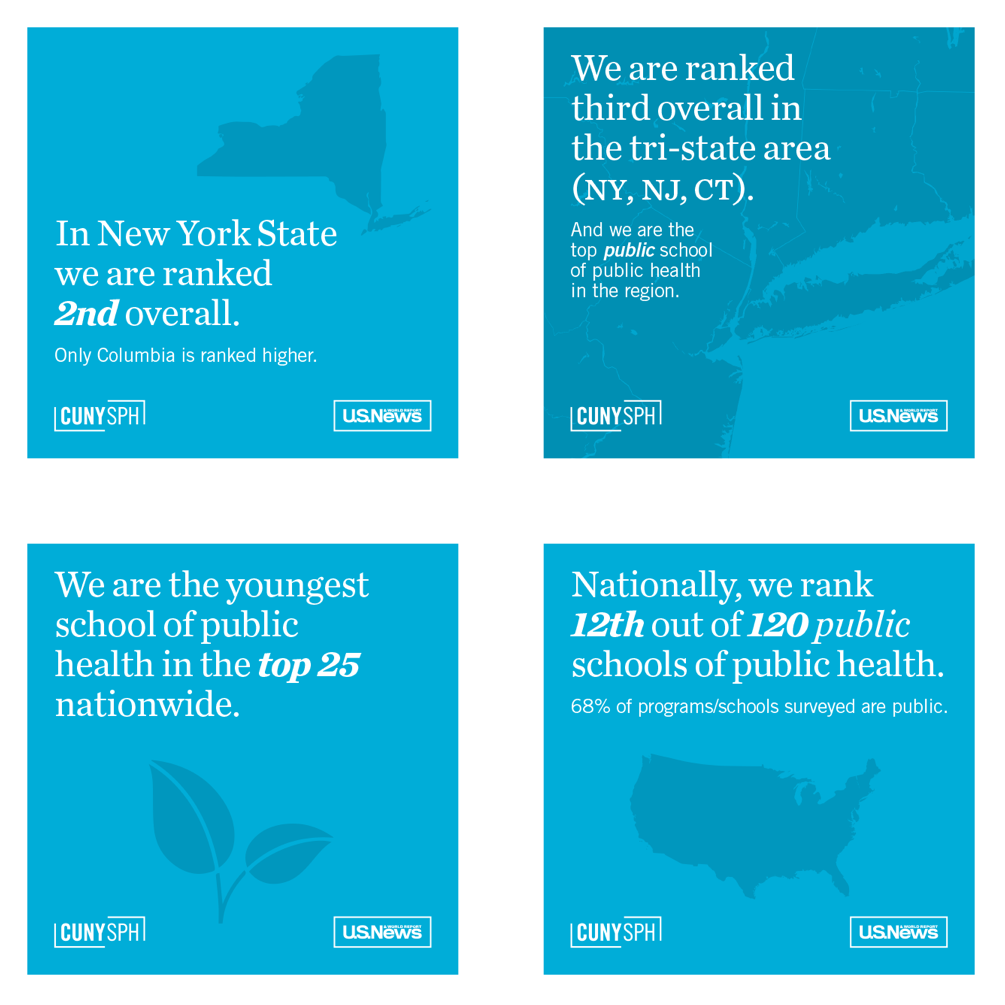 CUNY SPH has evolved into a pace-setting institution for faculty research. The school's annual research dollars expended per faculty FTE is the highest in the university at $189,000. That growth has not diminished the high quality of the school's teaching and instruction. In the fall of 2018, students gave their instructors a school-wide average of 1.88 on teacher evaluations on a scale of 1 to 5, with 1 being the highest.
CUNY's Board of Trustees in 2015 approved the current structure for the school, directing the University to transition to a free-standing, unified graduate school that would administer all professional master's and doctoral-level public health degree programs. Prior to that, the school, established in 2007, operated as a consortium of programs housed at separate CUNY colleges, with Hunter College the lead institution.
In 2016, faculty, staff, and students at the four consortial colleges moved to a brand-new campus in Harlem's central corridor, at 125th St. and Malcolm X Blvd., a setting suited to the urban health focus of the newly independent CUNY Graduate School of Public Health and Health Policy.
Central to its identity as an urban, public school of public health, CUNY SPH has maintained a strong social justice focus. The school's mission is to provide a collaborative and accessible environment for excellence in education, research and service in public health, to promote and sustain healthier populations in New York City and around the world, and to shape policy and practice in public health for all.