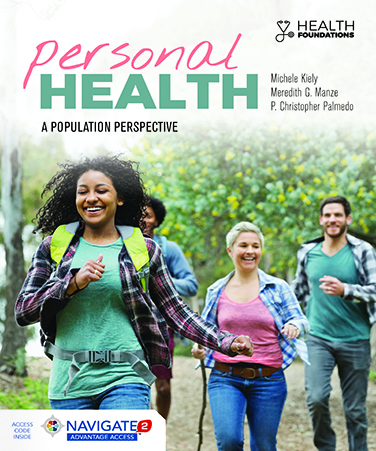 CUNY SPH Professors Michele Kiely, Meredith Manze, and Chris Palmedo published a textbook, Personal Health: A Population Perspective, which seeks to engage students in understanding relevant personal health issues within a broader population health framework.  
The volume combines information about individual health, including topics of interest and relevance to college-aged students, as well as a discussion of the context of community and global health to which each individual is inextricably linked. It highlights how personal choices affect not only a person's own health, but the health of their family and community and the world around them. Readers will find many examples from social media and other online sources as well as peer-reviewed publications. Each chapter includes scenarios to stimulate conversations and social change. 
"Often undergraduate health courses focus solely on personal health and individual health behaviors," says Manze. "With this book, we incorporate a population health perspective, to facilitate a broader understanding of the social determinants of health. Our goal is that students will come away knowing how choices, life circumstance, and policies shape the health of their families and communities. We hope that this will spark students' interest in this field and, for some, compel them to pursue further studies and career opportunities in public health." 
Personal Health, A Population Perspective, will be released Friday, October 19. Preorder your copy here!