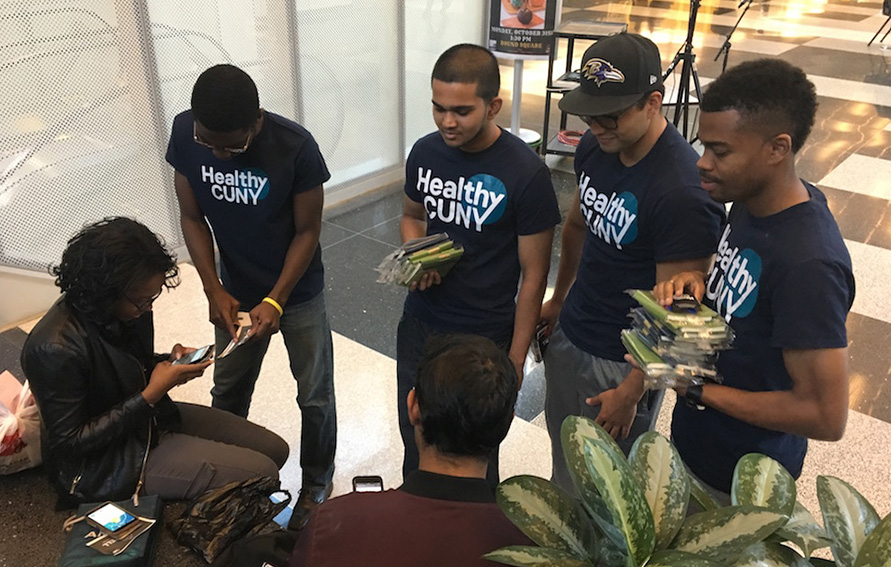 Health insurance is important for everyone, and college students are no exception. At CUNY, nearly ten percent of its more than 270,000 students have no insurance at all, even though many qualify for free or low-cost options. This places them at risk for both health and financial catastrophe.
As part of the University's Healthy CUNY Initiative, which promotes student health as a pathway to academic success, CUNY SPH Professor Chris Palmedo, doctoral candidate Katrina Mateo, and recent MPH graduates Eleni Murphy and Jennifer Gallo conducted a qualitative study to identify pathways and obstacles to increasing student health insurance at the university. The findings were published in the Journal of American College Health.
Palmedo conducted student focus groups at four-year and community colleges, and interviews with the key individuals involved in recruiting and enrolling students into health insurance plans.
"It turns out that communications alone can go a long way to increase student access to health insurance," Palmedo said. "Many CUNY students are eligible for Medicaid, but they don't even know it. Colleges are trusted communications sources, and can do a lot to take advantage of this important role when it comes to advancing student health."
Other communications opportunities identified from the research: Colleges can make on-campus health resources more accessible to students. These include campus-run health offices and social service partner agencies such as Single Stop, which operate on several CUNY campuses throughout the city. During some of the focus groups, Palmedo says, students were informing each other about these resources. Faculty, student clubs, and the online enrollment process are other channels for improving information about student health and health insurance, according to the research.
"Universities already make great investments in their students," Palmedo said. "Our study identified opportunities for an even greater return on these investments over the long term."
Palmedo PC, Murphy EK, Mateo KF, & Jennifer Gallo J. "What do urban college students really think about health insurance? A qualitative study." Journal of American College Health. 26 Sep 2018