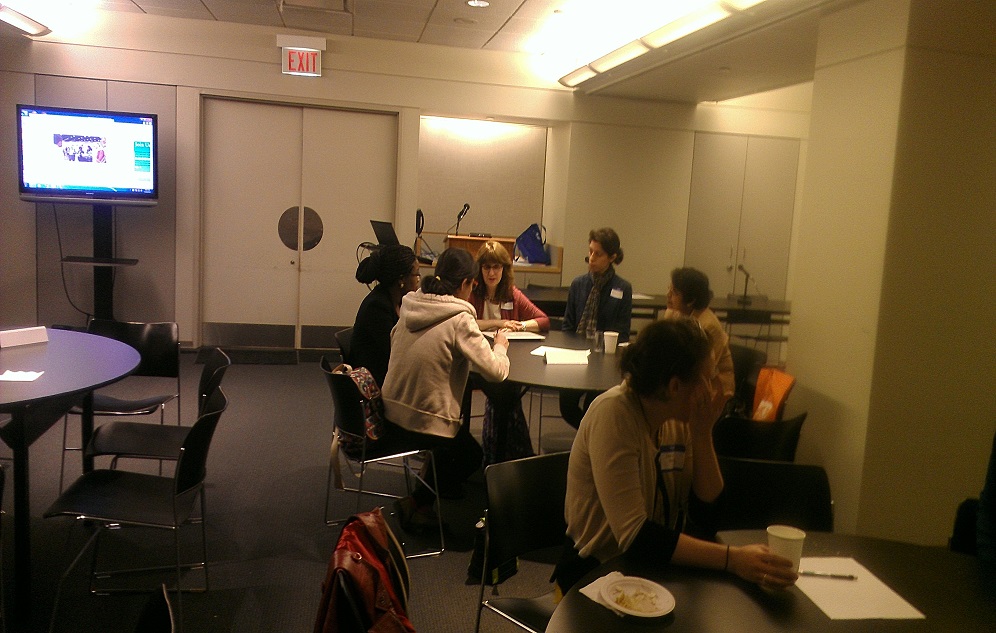 Root Cause Conference on Social Justice: Black Lives Matter and Public Health
Panel:
We convened a panel of community organizers, professors, healers and researchers to contribute their perspectives on "Black Lives Matter." Panelists spoke to the lives of young black people, the role of police in communities of color, policing in schools, healing justice, critical consciousness, the importance of love in activism, and the productivity of anger in action. Panelists also answered questions from and entered into dialogue with audience members. We were pleased at the feeling of community conversation that emerged between the panelists and the approximately 100 attendees.
Keynote:
We were honored to host the Commissioner of the New York City Department of Public Health and Mental Hygiene, Dr. Mary Bassett. She framed the Black Lives Matter movement within the sphere of public health and social justice. She spoke about expanding the diversity within the leadership of public health. Dr Bassett spoke to our values when she said, "we can't have a conversation about health without a conversation about power, and that includes race." Dr. Bassett laid out the structural changes taking place within the DOHMH. She described initiatives that are contributing to an agency that is more reflective of the diversity of New York and that works toward more equitable health outcomes across our city. Dr. Bassett emphasized that we must explicitly talk about about racism, support the inclusion and privileging of community voices in research and practice, and to support unique learning opportunities for students to engage in current social justice movements.
Racial Caucus Breakout: 
We broke out into two identity caucuses, one for people who identify as people of color and one for those who identify as white. Both groups had a dialogue about the following topics:
Institutional Racism
How we talk about race in public health
Interpersonal Racism
What it means to be an ally
Participant Feedback:
There were approximately 100 people in attendance including CUNY MPH students, faculty, staff, medical students from SUNY Downstate, MSW students from Silberman School of Social Work, among many others. More than a third of participants (36%) completed our conference evaluation, compared to an average response rate for conferences (30%-50%). In general, we obtained very positive feedback. On average, participants found our event to be extremely useful, relevant, and well organized, although they would have liked to have had more time for deeper conversations. They believed the level of expertise was high among our panelists and trainers, and left with a better understanding of how institutional racism contributes to poor health. Additionally, participants reported having a stronger feeling that it was their responsibility to engage with the current movement against racism and police brutality. They also felt confident that public health professionals have the authority and influence to tackle these issues and promote health. The majority of respondents expressed that they are committed to advancing anti-racist work within their own practices and communities. One person said, "I am committed to continue [sic] these conversations and pushing the topic among my peers who work hard to avoid these conversations," while another mentioned that, "I am committed to incorporate anti-racist framework into my daily work." In addition to having longer panel discussions, some participants suggested the idea of converting this event into an ongoing speaker series throughout the school year, as well as an integration of anti-racism and anti-violence in the curricula.
RC Evaluation:
Overall we were extremely pleased with the outcome of the conference. We were especially encouraged to see so many of our fellow students who are not involved in Root Cause attend and participate. It was very gratifying to see members of the staff, faculty and administration in attendance. We felt we were successful in providing a space to begin to explore the intersections of Public Health and Black Lives Matter, which was our original intent. On a side note, while we did not take note of the racial demographics of attendees it did seem that there was not a large number of black CUNY MPH students who stayed for the race caucuses. This is something to explore and keep in mind for the future.
What we learned?
(1) Root Cause collective have support and a community made up of a variety of public health, social work, and clinical peers. (2) We have to believe that change is truly possible in order to engage in it. (3) Root Cause has plenty of work in advocating for a more upstream and social justice focused public health. (4) We can organize a conference with the right attitude, some faculty and community support, a small budget, and members who are able to dedicate time, thought, and love. On a practical note, in the future we will solicit evaluation forms before any breaks in the conference (we received forms almost entirely from people who stayed the entire time).
What we are still questioning?
While we achieved a great deal, it became utterly apparent that our conference was only able to briefly examine some of the issues that we'd like to delve into deeply. Convening stakeholders from across disciplines was invaluable and we wished we would have had more time to hear from and converse with them. The small conference was a necessary first step, but we wish we could have had more time to hear from the panelists, to conduct the racial caucus breakouts, and to explore some topics that intersect with racism and police brutality (gender, mental health, sexuality, age, size, etc.) in further panel sessions. We continue to question how interdisciplinary methods including community organizing, health research, epidemiology, statistics, environmental and occupational health, nutrition, and public policy can come together to ensure optimum health and safety for people of color, for all.
What are we committed to?
(1) We are committed to continuing our work at CUNY SPH and working towards the next conference. (2) We are committed to engaging more of our peers from different disciplines. (3) We are committed to continuing the work of reflexivity and strategizing and evaluating public health's role in mitigating, resisting, and undoing racism and police brutality.