Everything Merges With Health Podcast Club
 Members Names
Claudia McCormack
Eleni Murphy
Claudia McCormack is a student in the Environmental and Occupational Health Sciences program at CUNY SPH. She is a former New York public school teacher and confirmed cinephile. She lives in Brooklyn with her husband and parakeet.
Eleni Murphy
Eleni Murphy is public health educator focused on multimedia health narratives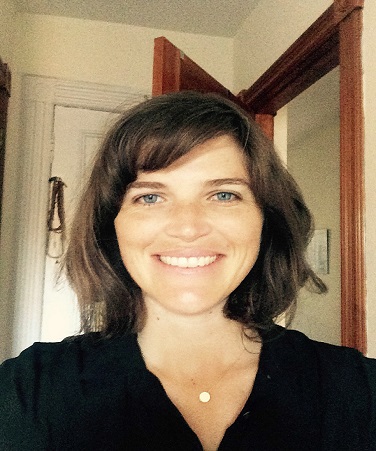 that transform health statistics into educational stories. After graduating with a B.S. in Public Health Education from San Francisco State University, she worked on environmental justice promotion at the San Francisco Department of Public Health (SFDPH). Following SFDPH she designed and implemented photography based health education curricula for United Way and Belfast Community Opportunity for Education (BCOPE) in Belfast, Maine. Now based in NYC she works for media visionary Kay Koplovitz while pursuing her MPH at CUNY SPH.
Contact: everythingmergeswithhealth@gmail.com
 EMWH Mission
Everything Merges with Health (EMWH) is a student-created and produced podcast that aims to investigate how social, built and economic environments impact health outcome. EMWH is grounded in community engagement, audience-based evaluation, and highlights the research, collaboration and innovation that are emerging from CUNY SPH. Every semester we cover a crowdsourced health topic and showcase health perspectives that reinforce everything merges with health.
EMWH Objectives
EMWH's first objective is to increase the following multimedia production skills: podcasts, video, still images and social media. We believe these skills are interactive tools that cultivate relationships within CUNY SPH, initiate dialogues with new communities, and provide standout skills in a competitive job market. Concurrent with the first objective, the second objective is to promote public health education with the dissemination of EMWH podcasts. Synchronizing our first objective and second objective build out the necessary eco-system for skill building and promoting public health education. Planned events and workshops are the crux of how we recruit, train and energize future and current EMWH correspondents.
EMWH's Website and Social Media Objectives
EMWH's website will host interactive pre-baseline and post-baseline surveys to evaluate the content of each podcast. In addition, the website will provide research specific to each episode and actionable takeaways for our listeners. Research is at the heart of every interview. Therefore we are challenged to think critically about search engine and academic database results. Our social media presences on Twitter, LinkedIn and Instagram will function to promote EMWH, CUNY SPH, and track listener metrics via clicks, views, and shares for each podcast.
Podcast Formula
The semester long health topics are determined by feedback from our listeners and consensus among club members. EMWH will air every two weeks. Each podcast episode is based on a 30-minute structure that is divided in three segments that feature a CUNY student, CUNY professor, and a community or industry expert. Tapping into CUNY's community is a pathway for increasing cross-disciplinary collaboration among MPH students and professors
EMWH Events Planned
Reception to introduce the EMWH club. There will be onsite streaming of the inaugural episode and a platform for submitting request for workshops and multimedia skills.
Send an email that reaches all students with a request for health topic proposals and contact recommendations.
Send an open call email for students and professors who would like to be our "person on the street" interview. Each season will begin with a segment that asks students and professors the same questions we ask during our interviews. This will provide a baseline to gauge collective knowledge about the selected health topic.
Demo party to promote the first season of EMWH.
Workshops:
Guest lecturers will lead workshops.
How to create record and edit podcasts?
Best practices for storytelling with audio and visuals.
Best practices before, during, and after interviews.
Multimedia health narratives as qualitative research.
Social media as a tool for public health promotion and professional development.